Are you using the Hive OS system for managing and monitoring your workers? If yes, then you do not have to make a choice between NVIDIA and AMD video cards — you can simply combine them in the same rig.
By doing this, you will get the following benefits:
You will save some money on paying for Hive OS since the computing power will be "located" in one GPU rig, not in several machines;

You will save your time, as there will be no need to look for suitable video cards produced by the same company.
Combining cards in one GPU rig can be done with no issues, since the Hive OS system comes with already installed drivers for NVIDIA and AMD. Therefore, to start mining crypto on NVIDIA and AMD at the same time, you only have to create a new flight sheet. Follow these steps:
Step 1: log in to your Hive OS account;
Step 2: select the required farm;
Step 3: move to the Flight Sheets tab;

Step 4: there you will see the following window:

Fill all the required fields:
Coin;
Wallet;
Pool;
Miner;
Flight sheet's name.
Step 5: now you can set up your flight sheet to work both by platforms (NVIDIA, AMD) and by card groups — this is possible since the Hive OS flight sheets support the configuration of multiple miners. To do this, use the miner settings to select a GPU rig (by device number or by platform). Please check the help information in the miner's additional configuration options. It becomes visible when you hover over the Info icon: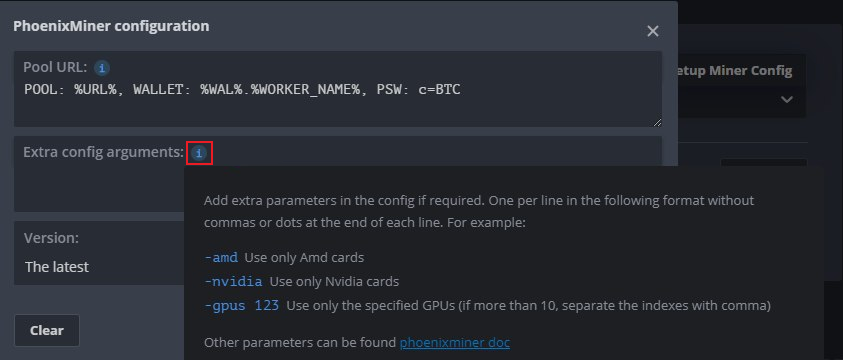 Apart from this, remember that some miners can support both platforms at the same time. For instance, PhoenixMiner and Claymore ETH on certain algorithms (Bminer, NBMiner or Gminer). In this case, one miner will be enough.
Step 6: after you are done with entering all the required information, click the Create Flight Sheet button.
That's it, you're done! Now you only have to apply the new Hive OS flight sheet to your GPU rig with NVIDIA and AMD video cards — that's the last step before starting earning money!
Do you still have any questions? Just get in touch with us — we are always ready to help you.