Hi Please Send Radeon RX 6600 XT Micron Overclock Setting
Not sure if those are good for Micron but I got MSI with below and works very well.

Got 54W with 32.9MH.
Hope it works for you as well.
Did you find any good settings?
Hi, I have MSI Mech 2 6600 xt with Micron memory. After many failed attemps, finally I found these settings; working more than 3 days without a problem.
Fan: 60 Core: 1100 VDD:660 Memory: 1050
Trying 1080 memory gave me errors. I guess 1070 also can work, but I don't wanna see another possibility of failure.
Do not forget; don't pass 1100 Core.
Thanks , those setting work for the last couple of min, I have 4 rx6600 xt with samsung memories and 2 new ones (Same cards) but arrived with micron memory … whats interesting by default those 2 cards work flat 30.02mhs without any tweaks where others with samsung did 28.x thanks to your post I have them on 31.46 flat again but thats almost 3mhs more than I had and 20w less across both cards - thanks !
Your welcome, I also have the same hashrate: 31.48 MH. Did you try 1070 Memory or 1050? I'm afraid of increasing the speed. Because I am really exhausted.
I set it up like this

its frustrating as all are same cards pretty much , all OC works except those micron memories … I will keep digging as I think I should be able to get another 1mhs from each card
Please do let me know, if you find out new settings! Thanks
I had my one working for a while with memory 1080 , pushed it 1090 and it crashed but few h later 1080 also crashed so I left it 1068… will let you know if I come up with any different settings
Has any been trying those settings with Samsung memories on same cards?
1100 on core seems to be on a higher side. Or not?
Nice, it work for me (RX 6600 XT Sapphire Nitro+ Micron GDDR6) | 31.92 MH / 58W (just a stable OC setting for now). Thanks!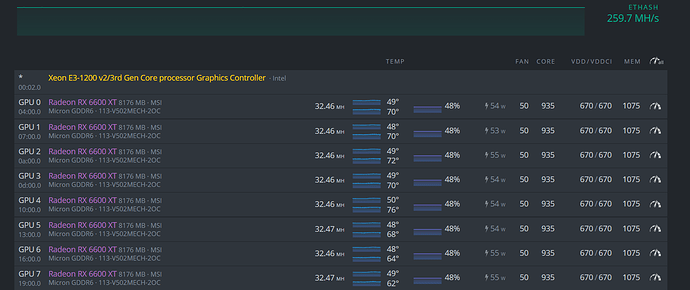 Many vga of 6600 xt vram micron can increase mem but I think you should set stable oc setting first. After a few days of stable running, you can increase mem to get a good hashrate.
STABLE OVER CLOCK SETTING:
Core 935
VDD: 650-670, or higher
VDDCI : 670
Mem: 1060-1070(stable setting)
You can increase mem clock :1075-1090(higher settings)
But be careful and oc slowly. Oc high can be crash your Vga.

hai! can anyone help me with the 6600xt memory overclock? i can't set the CORE n MEM. Once I change the OC then the notification about the card is not in correct state pop out.
Regards
it works very fine with the samsung memory, still got no luck for the micron memory
thankyou !
Do you know a setting for
MSI Radeon RX 6600 XT Micron Overclock Setting its killing me now