Hey guys!
I read all discussions but couldn't find any useful infos or tips how to prevent it. I'm using the latest nbminer (40.1) with 3 nvidia cards and nbminer is always crashing after a few hours. Sometimes 2, sometimes 6, but I always find this message in the logs eventually: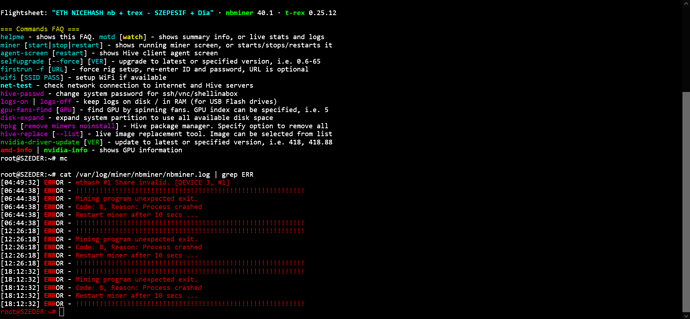 There's no invalid shares, sometimes I see a few rejected ones but not much. My OCs are perfectly normal, nothing abusive, all cards are on the safe side. The nvidia driver is 470.103.01 at the moment.
I would run Trex but it's already running in this flightsheet (2 other nvidia cards for a friend) so I can't run it again and I'm stuck with nbminer. I would choose a different miner but in my experience all of those are way worse and more unstable than Trex and nbminer.
I just want to know how to prevent the crashes and I would like to figure out why it's crashing at the first place. Which card is causing it and why. Unfortunately the logs are not telling me much and I have no idea what error code 8 means.
Do you have any idea what could I do or try to make it run stable?