As long as the temps stay cool the numbers look decent
please answer me … did U check pool stats?! are getting full hashrate there i found that after some time im not getting any shares for TON but eth is getting fine ! but no more shares for TON!!!
All
How did you manage to make it dual?
I have all upgraded hiveos and option for lolminer 1.43 is there but somehow when I try to select second algorithm it does not show it at all. It seems I can add miner but thats not the point.
What am I doing wrong? I run mine with 6x RX6600XT.
have you updated to the latest HiveOs version??
Think found first solution to not being able to do it.
I was trying to set it from mobile app and it is not available. Soon done it from web - no issue.
Now need to configure it as effective as possible.
Right then.
Got the config and selection of DualTon but somehow it does not start a flight sheet a all.
I have changed my RX6600XT clocks to below and still no good.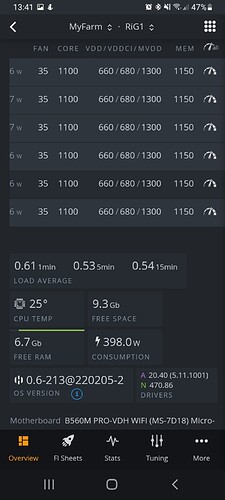 Hello.i have this issue.my ton hashrate is to high and i dont receive any shares.what i am doing wrong.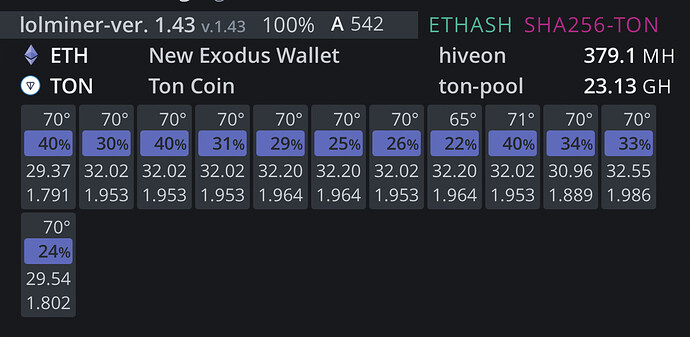 u are not doing any thing wrong i have tested with all my cards and in the best i get a few shares in start and no more shares after that!
What cards and what clocks? What does your ton pool say?
I did a clean install of hiveos and everything works now,but i have ups and downs in hashrate of eth and ton every 20 seconds.i have rx 580 gpus and my clocks are:core 1100, mem 2100 and core voltage 900
You can set and optimize the memory and memory controller voltages still
do you have any recommendations? couldnt find any stable ocs
Start at default settings and reduce until it's not stable. If you don't know what default settings are you can google them for your card
Excellent temperature and power.
please share OC settings.
Hi
I have done review of oc settings and I use core 1800 vdd 750 mem 1050 on RX6600XT and it does not want to boot it.
Is there an issue if I try to use HiveOS pool on ETH and other for TON?
Looks like my USB wasn't quite working. Changed to 64 from 16GB for better quality one and got it finally working. But new development.
See below screenshots from two OC setups. I got no difference in MH on TON either way but the lower one saves me 250W at the wall. I do not mind higher power consumption as long I actually get something back.
I see people getting 1.3GH on one card. How?