RVN is among the most popular options for miners migrating their hash rate after the ETH merge. Why? What is Ravencoin, why was it created, what is its utility, and, is it difficult to mine?
What is RVN and what's happening in the Ravencoin Ecosystem?
It was launched in 2018 on the ninth anniversary of the launch of Bitcoin. Its code is a fork of Bitcoin, and the project offers developers an alternative to smart contract compatible blockchains like Ethereum, ERGO. RVN highlights its decentralization and a strong security model as its main advantages compared to other platforms. Unlike BTC, RVN has a block time of 1 minute and a current block reward of 2500 RVN for solo mining.
RVN appeals to many cryptocurrency miners: it was launched with no pre-sale or initial coin offering (ICO).In addition, there was no pre-mine or pre-allocation of RVN for developers, the Ravencoin advisory board, VC funds, or other early project participants. This ensured that there are no large wallet owners, making the system fairer and more democratic. Ravencoin is open source, so anyone can help secure the network by contributing to the code or getting involved by running a Ravenode or a miner.
https://coinmarketcap.com/currencies/ravencoin/
True decentralization is key in any meaningful cryptocurrency project. KawPow, the RVN algorithm, is ASIC resistant, meaning it's a good place for GPU miners to research as a possible post-merge destination. A sudden influx of ASIC miners (there aren't any ASIC miners for KawPow but imagine for a second there were) might destabilize the project leaving it potentially exposed to a 51% attack.
The current block reward is now 2500 RVN at a block time of 1 minute and a circulating supply of 10.47B RVN (at the time of writing) out of a maximum supply of 21,000,000,000 RVN. So, from a mining perspective, there's plenty of scope to collect some RVN. Some might feel it's still early days with this currency from a mining difficulty perspective. With around 500 MH/s you can generate around 670 RVN per day at the current difficulty (see whattomine.com), it wouldn't take all that long to accumulate enough RVN to become a whale!
If you're coming from Ethereum, there are going to be some obvious differences. First, rather than waiting days for a small ETH payout threshold, your existing mining rig should be able to mint hundreds of RVN per day, depending on your hash rate.
Second, KawPow is very energy intensive. It's heavy on your GPU core. You're going to generate more heat, so you could argue it's harder on your gear and the environment you work in. Keep an eye on your temperatures and re-paid your GPUs or work with better ventilation whenever you can. As we go into Autumn (Fall), our ambient temperatures are cooling which will help immensely. You can also limit the power consumption of your GPUs which can make a big difference.
Naturally, your OC (overclock) settings will be different to ETHash or ETChash. Thankfully, Hiveon OS comes with lots of OC presets to start which we'll investigate in a moment.
Finally, RVN is not listed on a huge number of exchanges, but you can swap your RVN to USDT on Binance, OKX, and directly to USD or BTC on Bittrex. It's also supported on Bybit, MEXC, and XT.COM. It's a bit of a hassle to convert the cryptocurrency to FIAT currency without swapping to a different currency first, but this is something that is likely to change as we progress post merge. In any case, you may want to hold your Ravencoin in your wallet for a time when it has been added to more mainstream exchanges.
Utility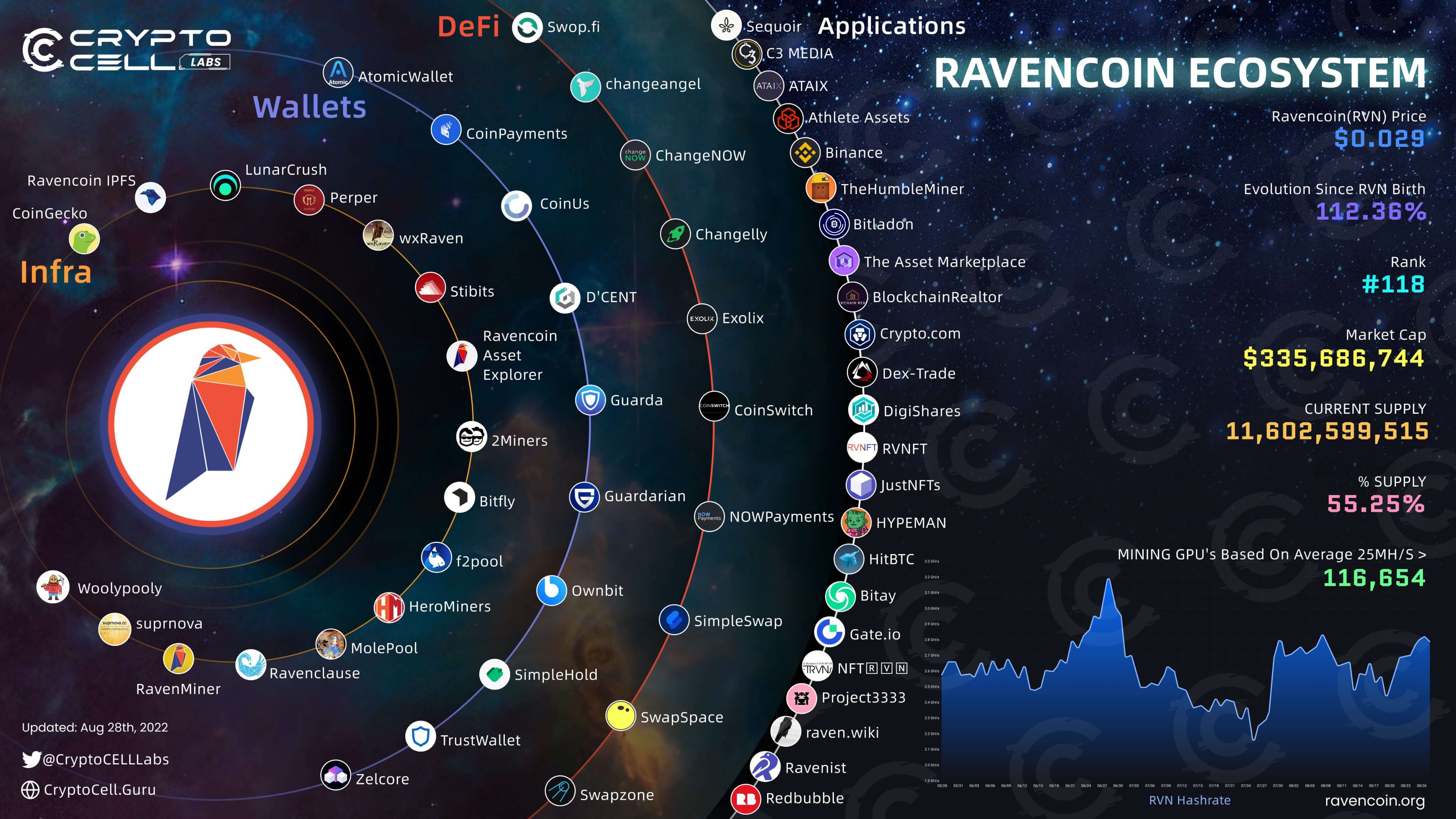 This graphic from CryptoCellLabs shows a growing Ravencoin Ecosystem. With additional miner support, the network becomes more secure, faster, and more enticing to developers.
Naturally, there's an NFT marketplace at https://rvnft.art/nft-marketplace/and and you can tokenize your own unique assets at a cost of 5 RVN. RVNFT removes the 500 RVN Barrier required for the issuer to be able to mint their own Unique NFTs as well as Sub-Assets.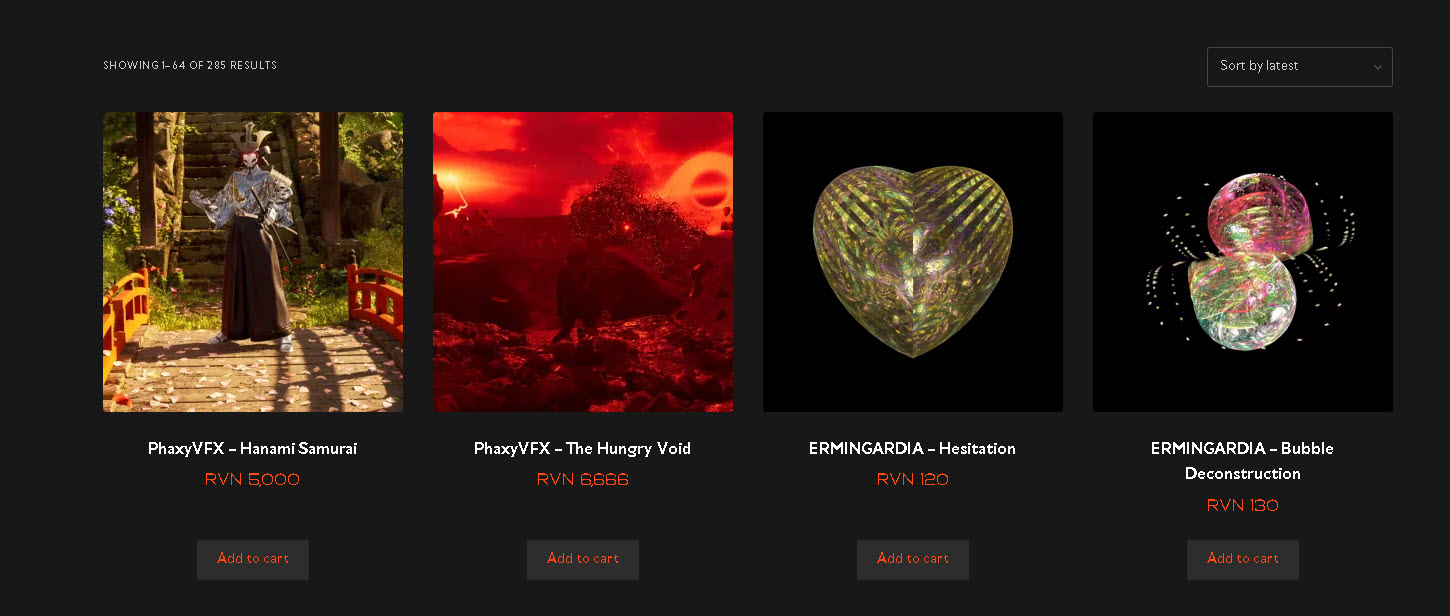 RVN's NFT Marketplace at rvnft.art
RVN also features a messaging protocol called Squawker. Demonstrated at https://squawker.app/, it feels like there's some familiarity between Twitter and Squawker, except Squawker, of course, is operated on the RVN blockchain. According to the RVN project: by using asset transfers to denote the meaning of IPFS file hashes, anyone can say what they want.
Projects like Squawker, Atomic Swaps, the Electrum Ravencoin wallet, WETx (digital water markets and inventory management), theassetmarketplace.com, and RavencoinHelper OS are all at an in- development, MVP, or partially complete stage but, do a good job of demonstrating the potential of this Blockchain technology.
There's a full specification for RVN and project list being kept up to date on the main Ravencoin website: https://ravencoin.org/projects/. Ultimately if the platform is attractive to developers that's a positive sign for a miner. Again, this is not financial advice, but when you're evaluating a blockchain it's good to look at the ecosystem, what's going on in the core and dev community, the community size and its breadth of engagement and finally, what is its unique use case. Ask yourself, what does it do?
Profitability
Naturally, profitability has always been a consideration, particularly as the difficulty for alternative proof of work destinations goes up which is almost certain as we approach the ETH merge. Here's a simple calculation with whattomine.com. With 5 3080s, RVN mining would yield approximately $10 per day at a profit of $2.00 daily, assuming your power per KW/h is approx. $0.20c.
While this rate is relatively expensive in the US still, it's about correct on average across Europe and 30% below the price of power in the UK.
"As an aside, I mine with the support of solar panels during the day and a reduced overnight rate. Profitability although harder to achieve, isn't impossible provided you do the math, and of course, if you're mining Ravencoin, you're very likely speculating on its price in the future."
Disclaimer: None of this is financial advice.
Low difficulty
I do believe that mining is a long-term game which is why I started mining ERGO some time ago. As it happens, ERGO difficulty has returned to May 2022 levels after a period of relatively low difficulty. Ravencoin is still at a comparatively low level of difficulty. This I strongly suspect will change after the ETH merge." Hiveon user, crypto writer Richard Baxter
How to mine Ravencoin
First and foremost, you're going to need a wallet address. I used the official wallet app for Android. When you're setting up your wallet, write down your seed phrases and keep them safe!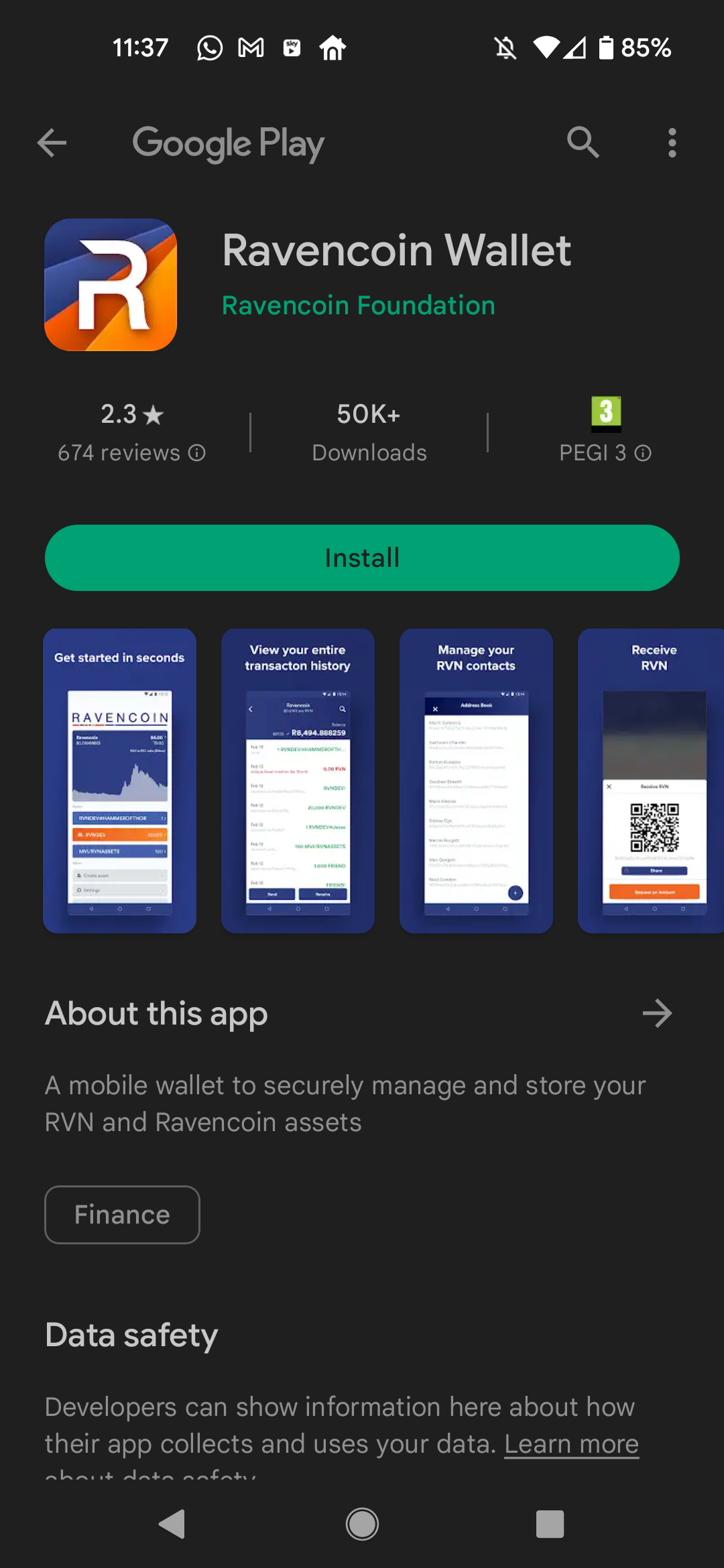 Settings in Hiveon OS
You can mine RVN with any mining app that supports KawPow. Hiveon OS will suggest those miners when you're creating a Flight Sheet.
If you're a Hiveon OS user, you can follow these guidelines or follow these steps:
1) Create a wallet with your RVN address
You're probably familiar with Hiveon OS, but if not you can find the "add wallet" button under the wallets tab on your Farm homepage: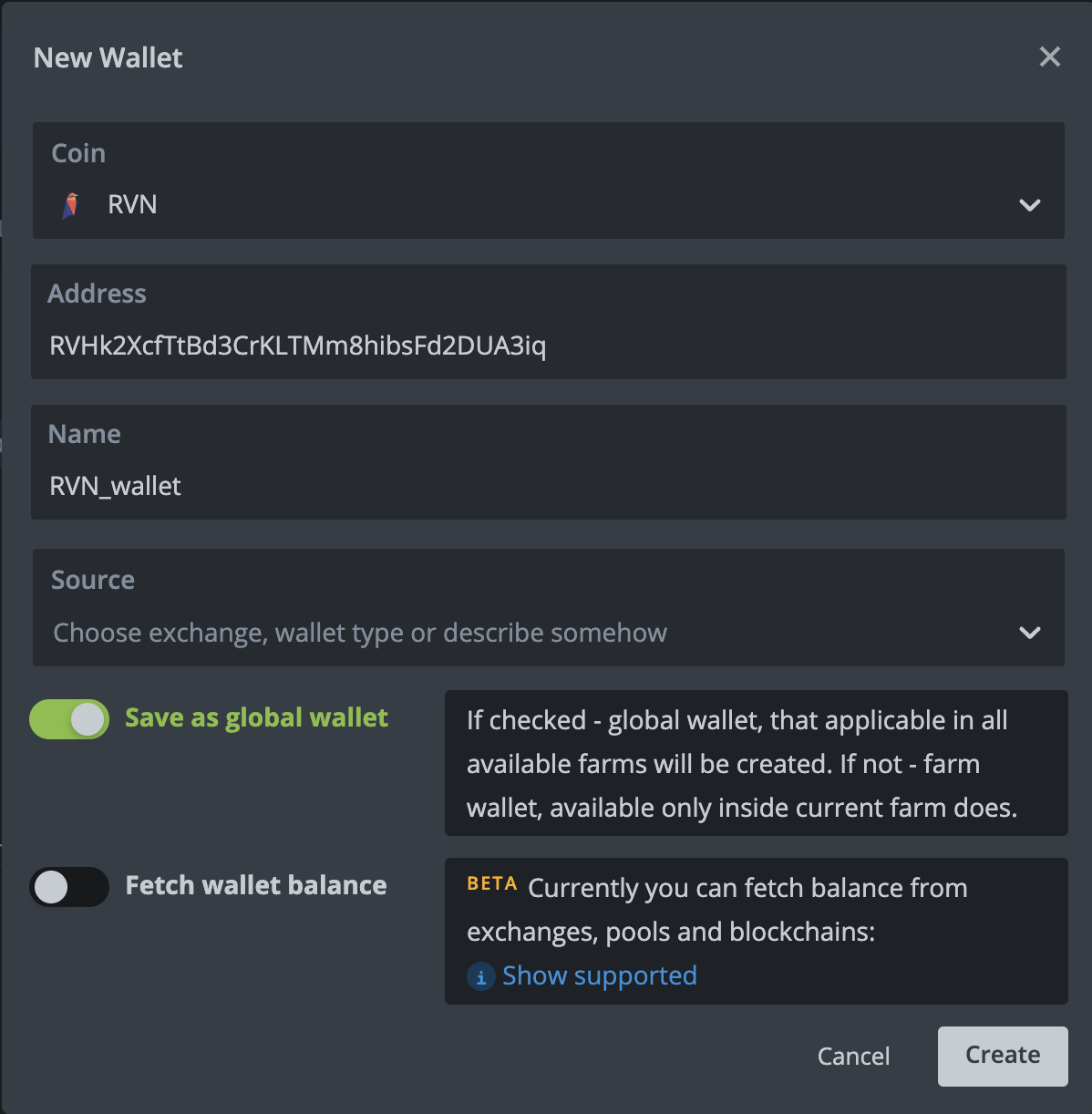 Creating a wallet in Hiveon OS
2) Create a Flight Sheet
Next, navigate to the "Flight Sheets". Select your Coin: RVN, your Wallet ("My RVN Wallet"), and the pool you'd like to mine to.

How to choose a pool
To get the most out of your mining efforts, you need to choose the fastest Ravencoin pool.
Usually, we choose a Ravencoin mining pool based on the following criteria:
Fees: they determine whether your participation is going to be profitable enough. The lower fees mean higher profits.
Reputation: the most popular Ravecnoin pool options always have an impeccable reputation.
Mining Pool Reward Type: PPS+ — Payment is made for every valid share sent to the pool, and it doesn't matter when exactly you have joined the pool, you will still get rewards for the valid shares that you submit.
Servers in Various Locations: the closer your rig is to the pool servers, the more efficient your mining will be. That's why it is important to have servers all over the world.
Hiveon RVN pool offers the following benefits:
0% Pool fee (until the end of 2022)
0% transaction fee
Minimum payout threshold of 10 RVN. PPS+ reward type
PPS+ reward type
Free Hiveon OS for Hiveon Pool users (up to 4 rigs)
Lots of miners prefer mining with T-Rex but as you can see there are lots of mining app options for you to explore.
Save your new Flight Sheet by clicking "Create Flight Sheet".
3) Apply your Flight Sheet to your worker
If you've followed this guide then, congratulations – you're a Ravencoin miner! As a POW blockchain, RVN will certainly be a candidate for a lot of GPU miners to allocate their hash rate post Ethereum merge.
Follow us on Twitter, Facebook or Telegram for updates.
Mine efficiently and profitably!
FAQ
What is luck in pool crypto mining?
All Proof of Work mining, including RVN, is consensus-based and probabilistic by nature. In short, there are statistical averages to help determine approximately when your pool will find a new block to be added to the blockchain by consensus. When you start mining, you tend to have a very low number for luck which rises steadily. Statistically, your pool should find a block on or around 100% luck. Of course, sometimes pools find blocks earlier, at a lower luck level, which is luckier than a luck level over 100%.
What is the best Ravencoin mining pool?
When selecting a mining pool, look at fees associated with payments. Hiveon RVN Pool offers a 0% Transaction (Tx) fee. Also, look at how the minimum payment threshold is set; at Hiveon, we've set this to 10 RVN. You should, even with a relatively low hash rate, receive transaction cost-free payouts on a regular basis. Also, look out for the mining pool's reward type. Hiveon offers PPS+, an instant payout for every solved share provided by the miner. Under PPS+, a miner gets a standard payout rate for every share they provide. Each share to the pool is valued based on the pool's total hash rate; therefore, the "difficulty" of mining a new block will impact the payment. PPS+ means that a miner on Hiveon can generate a small additional income based on the transaction fees occurring in the pool.
Ravencoin mining pool and what to mine?
Mining is essentially based on the economics of return in investment. You have costs: electricity and hardware. A very useful approach to mining any cryptocurrency is to look at the "profitability" of the coin. Essentially, how much is it costing you to contribute to a pool? Take a look at https://whattomine.com/ - as a quick example; you can tell the https://whattomine.com/ website how many of each card you own. What to mine will know the power requirement of your hardware. If you enter the price of a KW of electricity in your region, what to mine will calculate your profitability. As it happens, RVN (KawPow algorithm) is currently the most profitable coin (a 30% profit margin) to mine with a typical array on NVIDIA GPUs at an electricity price of $0.20 per KW/h. In some areas, electricity may be cheaper, and in some areas, electricity may be more expensive. So, it is wise to know your figures!
Why is the value of Ravencoin going up?
We're approaching a completely unprecedented time in Crypto, with the Ethereum merge happening on or around the 14th of September 2022. Because of this, there is huge market speculation on which POW (proof of work) coins will become popular amongst miners. RVN, Flux, ERGO, Kaspa, and Neoxa appear to be the favorite destinations for miners migrating their hash rate from ETHash. Price is affected by speculation from retail investors and activity from miners, social media, and press coverage. But ultimately, it's vital to do your research on the features of a coin. If blockchain technology has a thriving community, a strong development team, and a meaningful set of use cases, it's a technology that adds value. None of this is financial advice, and you should do your research.
How much is Ravencoin worth?
At the time of writing, RVN is priced at $0.03906, up 20% from the previous day. Please check sites like https://coinmarketcap.com/currencies/ravencoin/ for the latest pricing data.
Why mine Ravencoin?
Choosing to mine any cryptocurrency should be a personal choice based on your research. You could choose to mine Ravencoin because you believe in the future of the currency, technology, and ecosystem. You could choose to mine RVN because, at the moment, it is the most profitable coin to mine. Always do your research.