Are you joining the ASIC miners while cryptocurrencies are on the rise? But do not know how to do it and whether it is worth dealing with it at all? So, mining with ASIC in 2022. How does it work?
☝🏻Before we start
Do you want to get the maximum out of your ASIC? Are you concerned about electricity costs preventing efficient mining? Or perhaps you need to configure the ASIC miners settings to meet your needs? We have the solution: Hiveon ASIC is a firmware that will increase your hashrate, protect ASIC miners from viruses and provide you with multiple additional functions, including the free Hiveon OS monitoring system!
Are you interested in installing thousands of ASIC miners in one click without voiding your devices' warranty? Do you need a system for monitoring your ASIC miners? We have you covered as Hiveon ASIC Hub can do it all! It is the solution for the fast installation of thousands of devices and integration of your ASIC miners into the system with the possibility to control them through Hiveon OS. Moreover, your warranty will remain active!
ASIC is a device that specializes in mining cryptocurrencies thousands of times faster than regular computers.
The emergence of ASIC miners on the market happened because of rising energy costs and the steady increase in the complexity of cryptocurrency mining. These conditions once "inspired" the developers of mining equipment to create specialized mining ASIC chips that solve many tasks but have relatively low power consumption.
To mine on ASIC miners, follow these steps:
Step 1: Decide on the ASIC model
Consider its hashrate and power consumption. Also, decide which coin you plan to mine in advance — perhaps this will simplify the search (for example, Antminer L3+ is more suitable for LTC mining). You can calculate the ASIC mining profitability of a particular model on the WhatToMine website. It is enough to enter the cost of your electricity in dollars.
For example, with an ASIC miner value of $0.05, mining BTC on Bitmain Antminer T19 will bring about $20 per day, already considering electricity costs.
Step 2: Choose hardware for mining
We will list the top ASIC models in our following tutorial, which will help you choose and indicate the prices for the most popular models.
While choosing the best ASIC, consider the availability of spare parts and the availability of service centers in your area. Remember that you can mine not only at home — you can use the services of mining co-locations if you plan to buy a lot of devices, and you are running out of space at home.
Step 3: Choosing firmware for ASIC miners
To reach the maximum profit level while mining Bitcoin in 2022, we highly recommend using custom firmware because with its help, you will improve the factory hashrate and power consumption levels. It can increase performance and reduce electricity consumption. With custom firmware, one gets multiple options to increase efficiency. So, if possible, after buying an ASIC, install custom firmware on it. With it, you will earn more and spend less.
How does it work?
For example, the Hiveon ASIC firmware allows you to increase the hashrate, speed up worn-out device chips, and protect your equipment from viruses. Hiveon ASIC firmware users can enjoy all the advantages of Hiveon OS for free: manage devices in bulk, monitor hashrate, power consumption, temperature, online/offline statuses of each miner ASIC, miner errors, invalid shares, overclocking, adjust access levels, and so on, as well as get support from the most extensive mining community 24/7.
As for the profitability of the Hiveon firmware, it all depends on the specific ASIC model, hashrate, and electricity cost.
For example, on the Antminer T17, at 45 TH/s and the electricity cost of $0.05 per 1 kWh, the Hiveon firmware at stock values ​​will bring up to $18 more than the official one per month. The net income per month from one device will be approximately $166. With an ASIC cost, for example, $2270, the device will pay off in about 13 months, and then it will start to bring a net profit. You can find out more about the profitability of the Hiveon firmware in this article.
Step 4: Join the pool
Usually, you can earn on a pool much more consistently than when mining alone (solo mining). When choosing a pool, consider its payout model, a fee (don't forget about transaction fees), minimum payout, server locations, and difficulty. Hiveon has no fees (including the MEV incomes) and covers the transaction fees. Its payout model is PPS+, which guarantees stable income.
Step 5: Monitor the condition of your ASIC miners
Do you want your devices to live longer? Then we recommend connecting them, installing the firmware, and mining the selected coin. Additionally, make sure to monitor the condition of your ASIC miners, track the temperature, clean the devices from dust, and ensure heat dissipation.
Mining can bring you a good income with modern, powerful hardware. The main thing is to approach the issue wisely. Carefully study the specifications of the ASIC before buying, calculate its payback. Don't forget about the benefits of custom firmware, choose a reliable pool with minimal fees, and monitor your hardware. If you follow all these recommendations, you will profit from mining cryptocurrencies.
💡How to Increase Your Bitcoin Mining Profit
Apart from reliable protection, Hiveon ASIC firmware significantly increases the hashrate.
Examples: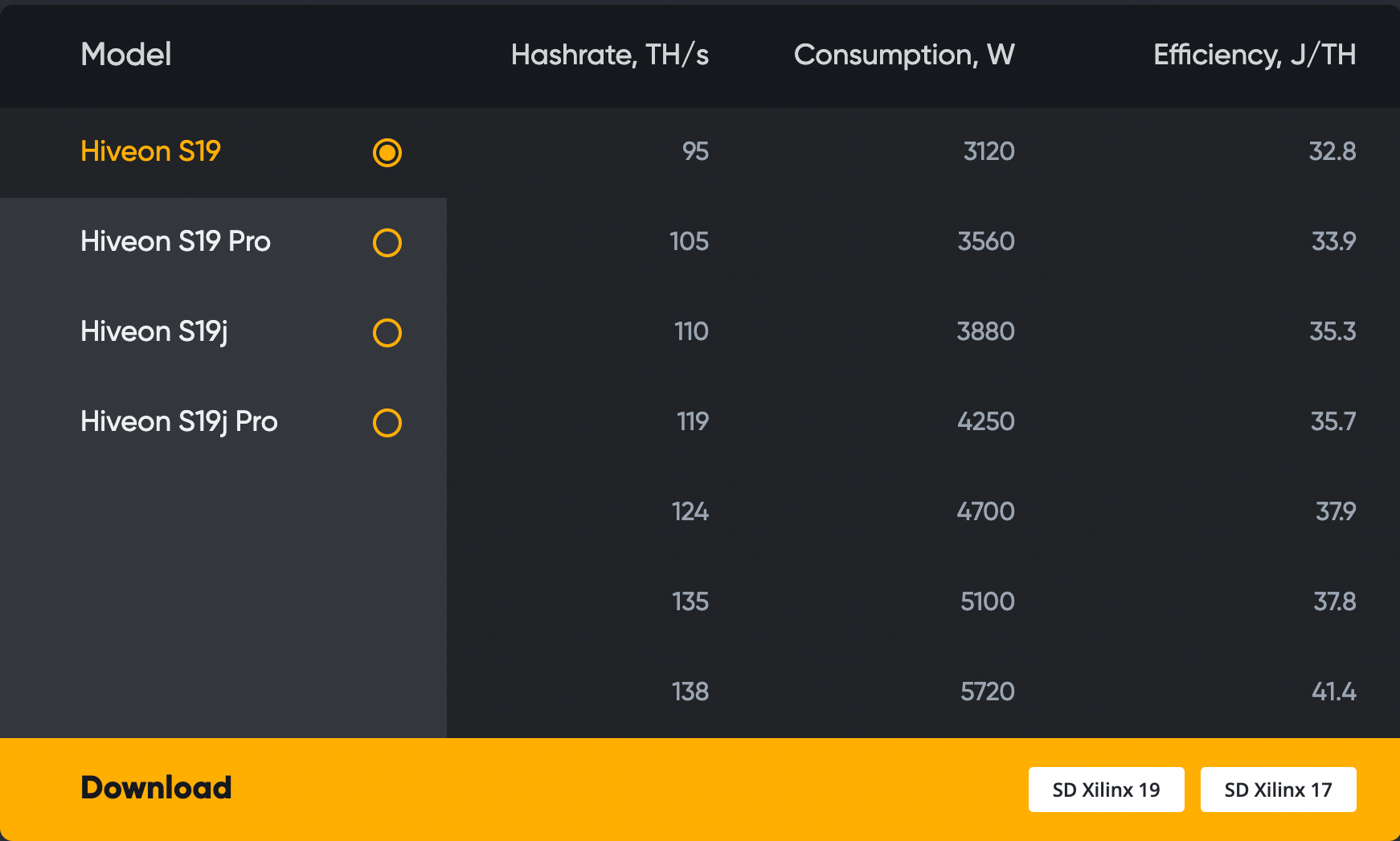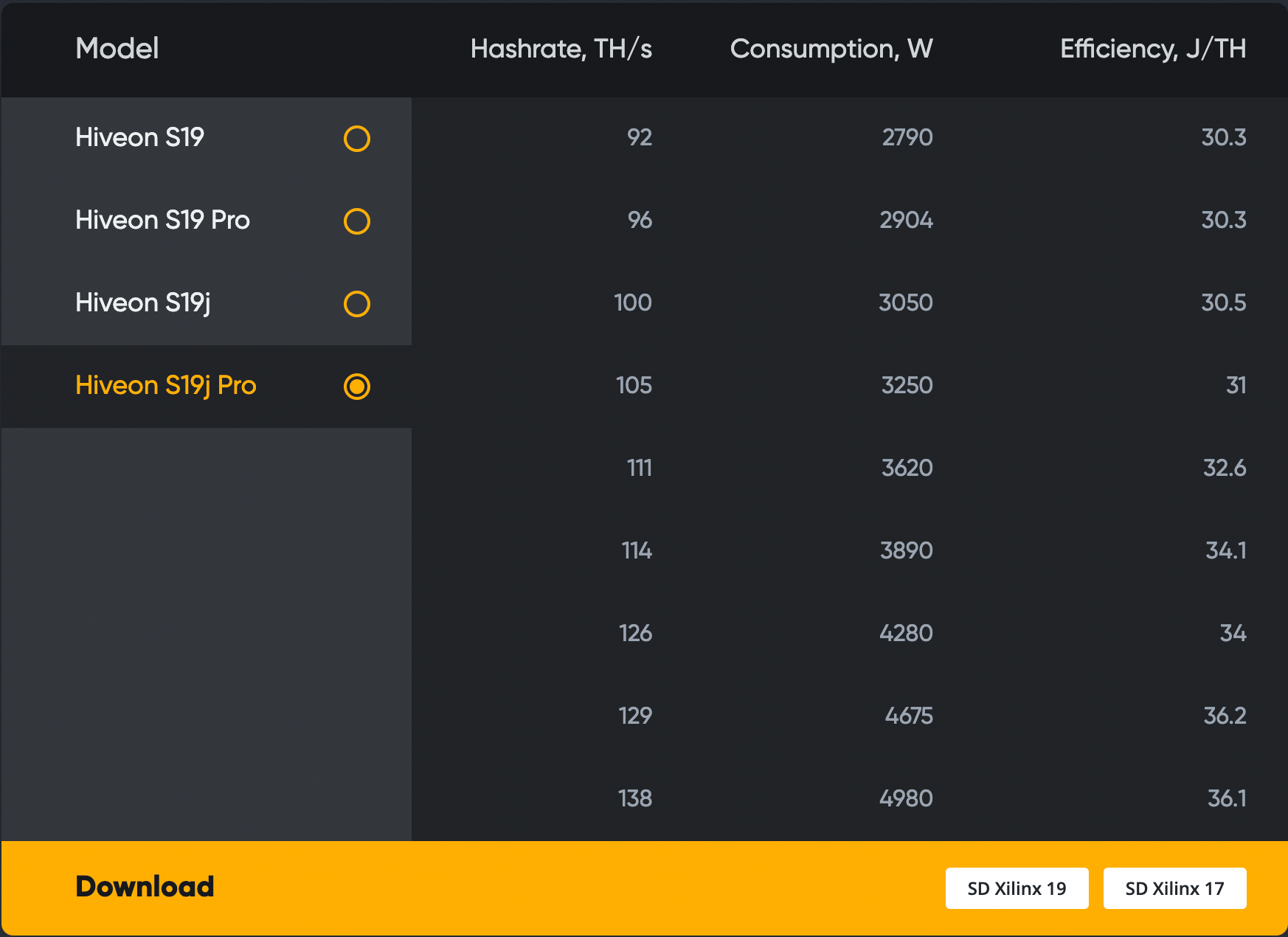 Do you still think that using custom firmware and overclocking will negatively impact the lifespan of your ASIC miners? It's just the opposite! Let's check how Hiveon ASIC Firmware can prolong the lifespan of your miners.
Use immersion cooling to reduce temperature fluctuations. It's easy with our immersion cooling mode. Detach the miners and put them in an immersion bath; the devices will not be checking fans!
Maintain the highest hashrate while keeping power consumption and temperature as low as possible. The optimization is automatic. Manual fine-tuning is available, too.
Set up the critical temperature threshold and/or the desired fan speed. When your miner exceeds these values, the overclocking profile will be automatically lowered.
The firmware prolongs the life of your chips by preheating them at launch so that there are no sharp rises in temperature.
Protect the devices from damage, avoid equipment downtime and prolong the lifespan of your miners with Hiveon ASIC Firmware!
Download firmware for free
FAQ
What can ASIC miners mine?
ASIC miners can only mine cryptocurrencies that use the algorithm they were designed for. You will have to choose the one that suits the algorithm of your device. That is why when selecting an ASIC, you should, first of all, choose a coin. Decide what cryptocurrency you want to mine and, based on this, choose the appropriate model. This article shows which ASIC miners are suitable for mining the most popular and expensive coins.
How to make an ASIC miner?
ASIC miners are very complex devices and are difficult to create on your own. If you prefer to build your mining rig yourself, consider GPU mining.
What are ASIC mining rigs?
ASIC mining rigs are multi-million dollar investments typically comprising hundreds or thousands of ASIC miners. Do you have a desire to build an ASIC mining farm? Then let us guide you through the essential things to keep in mind:
First, it is hardware. A rig comprises several ASIC devices connected that perform as a single unit. One needs to pay attention to electrical power consumption, computational speed, and efficiency in terms of hardware.
The motherboard is very important as it holds the hardware together; one needs to know what hardware will be used to choose it.
The number of powered devices determines the power supply selection and whether a user will overclock the miners, as this will require more power.
The Central Processing Unit (CPU) task is to coordinate various aspects of the rig, including the ASIC miners. So, a CPU is essential for the rig's smooth running.
One needs a frame to hold everything together and make a compact system. If it is robust enough, one will spend less on repair costs. To determine the frame size, you need to know how many miners you will add.
How to keep ASIC miners cool?
Ensure a good exchange of indoor air with outdoor air for low ambient temperatures. This way, the ASIC miners will stay cool.
Moreover, all the users of Hiveon OS can enjoy the benefits of a heatmap that will resemble the temperature of all your workers. If any of them reaches the critical temperature, the system will mark the worker with red color right away.
Additionally, the autofan feature in Hiveon OS will automatically control the fan speed once you set up the target temperature. Thus, your workers will maintain this temperature.
And last but not least, if you use Hiveon ASIC firmware, you can benefit from a temperature watchdog that checks the temperature of chips and printed circuit boards. The watchdog automatically reboots the device or stops the mining process to prevent damage if the critical temperature is reached.
How loud are ASIC miners?
Typically, ASIC miners are much noisier than GPU mining rigs. Take this into account when making your purchase!
Some ASIC miners produce less noise than others or almost no noise at all. If your budget allows, we recommend paying your attention to Bitmain Hydro S9 as it is claimed to be noiseless.
How long do ASIC miners last?
ASIC miners usually last from 2 to 5 years. After that time, there are typically newer, more efficient ASIC miners on the market, which makes the profitability of mining on older devices drop significantly.
It would be best to consider not only a machine's raw hashing power. Depending on the profitability of some ASIC models, they may be taken offline; the profitability itself varies with Bitcoin's price and difficulty. When the price levels grow, it usually causes older ASIC models to be brought back to the market. If cheap price levels drop or there is a considerable increase in mining difficulty, the effect will be the opposite.
Useful guides: