In this article, we will tell you about all the symbols and icons that you can come across using the Hiveon OS operating system.
When mining cryptocurrencies, your workers send solutions, they are also called shares. The screenshot below displays the miner that is used to mine cryptocurrency, as well as its version. Then the mining efficiency is indicated as a percentage. Capital A (Accepted) - the number of shares found and accepted from the worker.

In this case we see that one or more video cards are providing rejected shares. In the list of cards, we can see which cards are sending such shares and in what quantity. Opposite these cards, we will see a crossed red circle.

If the percentage of this kind of shares is close to the threshold that is set for this farm, the indicator will turn orange.

The threshold below which the indicator turns red - you can choose it independently for each farm.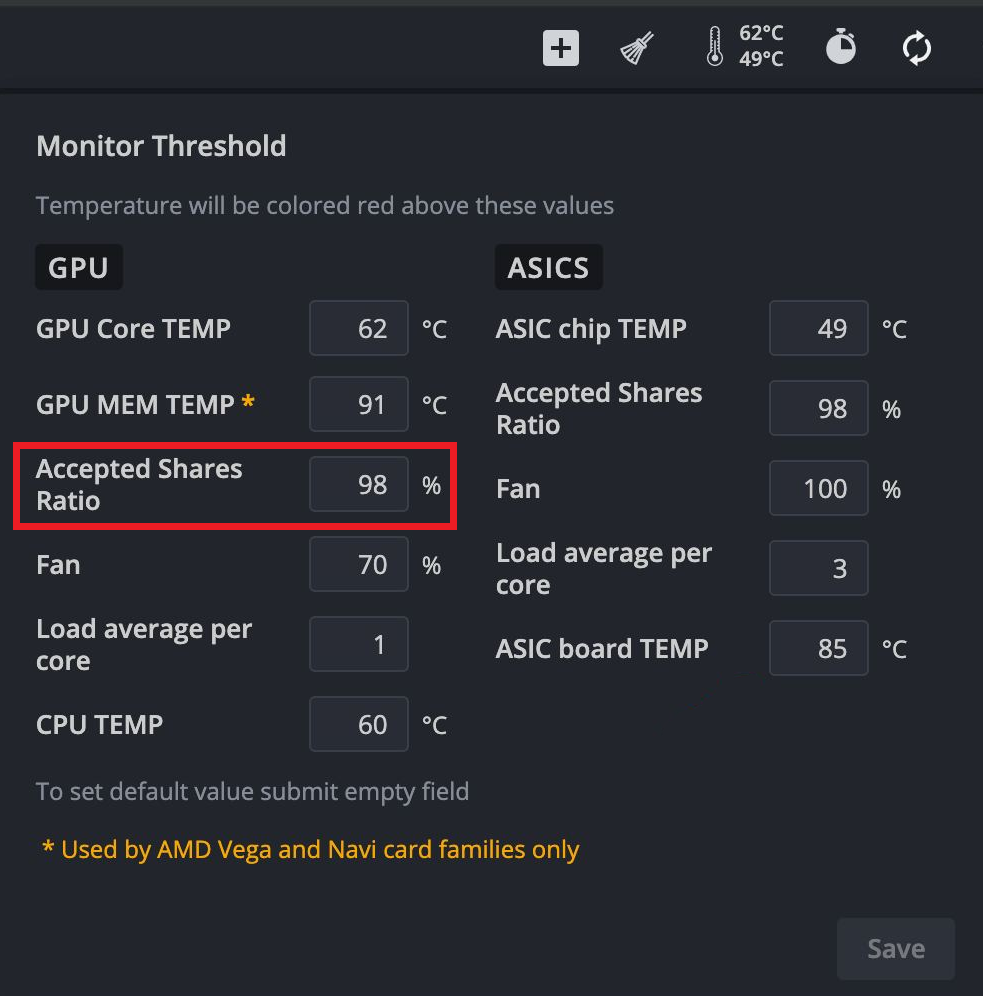 Upon reaching the threshold, you will see an icon like this:

Let's take a look at another important parameter LA (load average). In the normal state, it is not displayed, but in case of increased system load, the icon shown in the screenshot below will appear:

Device temperature is one of the most important parameters for stable mining. The following icon is used to display a worker that has overheating problems:

The threshold at which the system will notify you about overheating is set for each farm separately in the upper toolbar:

An icon indicating that the worker is offline, i.e. for some reason cannot connect to the Hiveon OS server:

To start mining, you need to set up a flight sheet and launch it. If a worker has just been created or transferred from another account, it will have no flight sheet, which will be indicated by the corresponding icon in the screenshot below:

During the operation of devices for mining cryptocurrencies, so-called "crashes" of a part of the device sometimes occur. In the case of a worker with video cards, this is one or several video cards. In the case of an ASIC, these are hash boards. In this case, the system will notify you about this with the appropriate icon (red rectangle):

You can also deactivate the mining device in the account, in this case it will not be read by the system servers, and the corresponding icon will appear next to it:

If, for some reason, after starting the equipment and applying all the configurations and flight sheets, the hashrate is zero, in your personal account next to such a worker you will see the following icon:

If it is impossible to read the contents of the eeprom flash drive, you will see the following icon (you need to flash the EEPROM):

This is the standard window for displaying information about the worker unit: temperature, fan speed in percent, hashrate (n\a means that the device is initialized, but the miner has not started its work yet):

The designation of the coin currently being mined on the hardware: