Apart from mining, you can also earn from your referral payments! To start earning, follow this guide:
Sign up and get a referral link with your account ID.

Share it on social networks, forums or blogs.

New users that sign-up using your referral link will be marked as your referrals.
Referrals who use only Hiveon OS
If a referral makes a deposit and adds miners, you will receive 10% of their daily payment. For example, a referral pays $200 today — you receive $20. In case a referral makes a deposit but adds no miners, the rewards system won't work.
A referral reward is counted ONLY when a referral pays for using Hiveon OS.
Besides, if there is a debt on the referral's farm, the referral reward will be paid only after the debt is fully repaid.
Referrals who mine on Hiveon pool
If such referrals have more than 4 rigs and pay 3% (or less with the discount based on the number of workers) for Hiveon OS on Hiveon pool, you will receive 10% of the 3% fee that they pay.
You can also create promo codes for new users to receive on their accounts. A user who used a promo code gets $10, and you - a new referral.
What to do with bonuses?
Payments are made at the beginning of the month, in case the amount has reached the equivalent of $25. The payment is sent to the specified private wallet. You can also withdraw the money to your balance on your own, at any time and in any amount (fully or partially).
This means that you can earn even without using Hive! Just create an account, attract referrals and earn your 10%.
Is it possible to make devices referral, not just the account?
Yes, manufacturers and sellers of end-use equipment can make not only the account referral, but also workers — the Hiveon OS referral system allows doing this. To do this, you must have the ref_id.txt file in /hive-config, with the content of the seller's ID_account in Hiveon OS. Here's an example of how it should look: You are a hardware seller, and in Hiveon OS your ID_account is 777 (you can find this value here).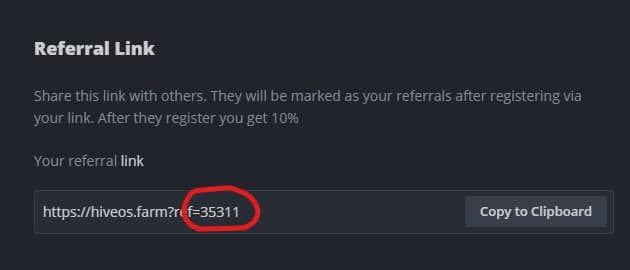 You create a text file ref_id.txt with the following content — 777. Then you save it. After recording onto the drive, you copy the generated ref_id.txt file to the /hive-config folder. Done! Now workers sold by you will also earn you referral rewards.
But you should consider the following things:
The referral worker has a higher priority than the referral account. An account can be a referral for one client, and a worker — for another.

In this case, the referral reward is divided proportionally (the referral account gets its share minus the referral workers)

The worker is registered as a referral only during the first communication with the Hive server. Thus, the presence of the ref_id.txt file is only necessary before the first communication session (successful sending hello to the server).