This article describes how to add ASIC to Hive OS using ASIC Hub.
Supported models
Bitmain
Antminer D3
Antminer Series 9:
S9i, S9j, S9k, S9SE, T9+, S10 (dual S9)
Antminer Series 17:
S17, S17 Pro, S17+, S17e, T17, T17+, T17e, X17
Antminer Series 19:
S19, S19 Pro, S19j, S19j Pro, S19+, T19
Antminer Series Z:
Z11, Z15
Canaan
AvalonMiner Series 10:
1047, 1056, 1066-50, 1066Pro-55
AvalonMiner Series 11:
1126Pro, 1166Pro
Ebang
Innosilicon
A9+ Equihash ZMaster
A10 A10L Pro ETH Miner
BTC Miner T2:
T2TI, T2TZ
BTC Miner T3:
T3+, T3H+, T3S
WhatsMiner
M20S
M21S
M29
M30S
M31S
M31S+
Using Web UI
Search Devices
Open http://localhost:8800 and click Add Device button.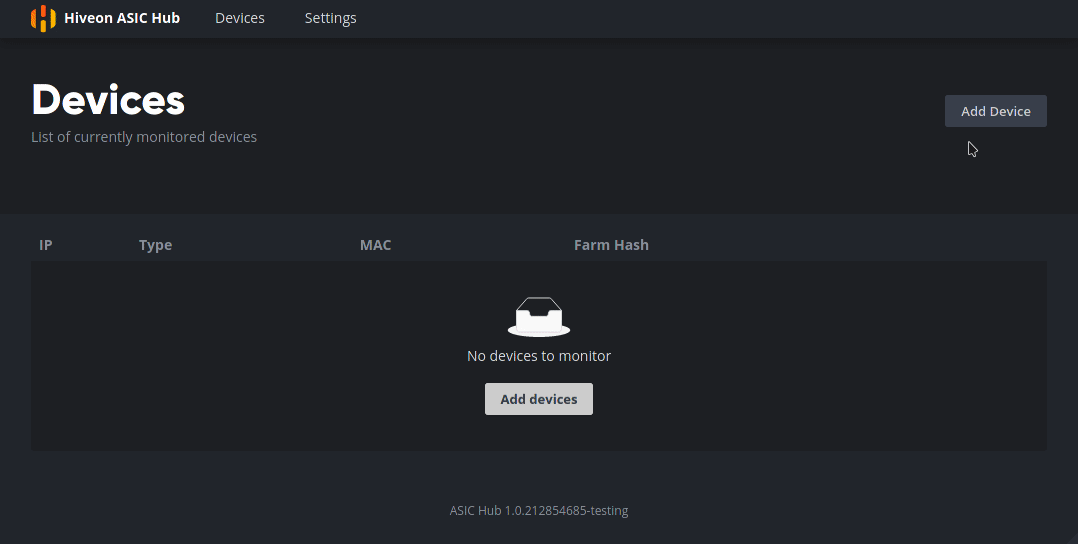 You can add devices by:
IP address
CIDR (subnet)
IP range
Use Add Credentials button to specify custom device credentials.
Click Next to find devices in specified addresses.
Import from CSV
You can import a list of devices from CSV file.
CSV file should be without header and contain a list of IP addresses. If device has custom login credentials, they should be speficied in second and third column.
Farm Selection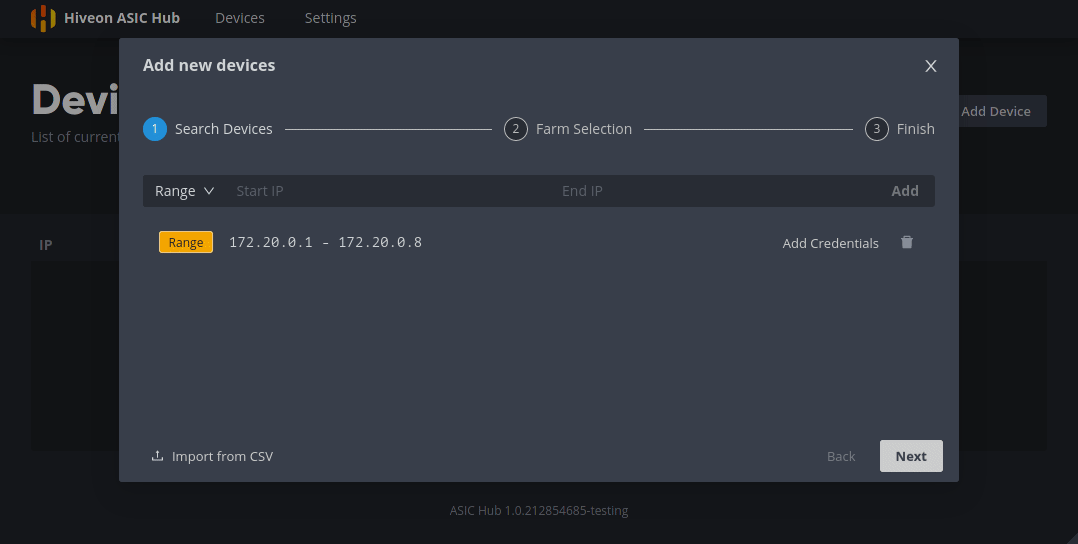 After scan process, you will see a list of ASICs recognized by Hub.
Specify farm hash for a destination farm in Hive OS and click Next to register devices in Hive OS and Hub.
Important notes
Before registering your ASICs, please check if ASICs have dynamic or static IP address.
If ASIC has dynamic IP address, ASIC Hub can track IP address change using ARP scanner. This feature can be enabled in configuration file.
If all your ASICs have a static IP address, we recommend to disable ARP scanner to reduce load on your router.
Also, some ASIC models like old Antminers or some WhatsMiners by default have dynamic MAC address. Please check if your ASIC has a persistent MAC address, otherwise Hub ARP scanner or static DHCP won't work.
New ASICs can be registered in ASIC Hub using hubctl tool.
Use the following commands to add devices:
hubctl devices add - Add devices by IP address
hubctl devices add-cidr - Add devices using CIDR
hubctl devices add-range - Add devices by IP range
Use hubctl devices --help for full commands list.