Dear all, recently been mining ethash with purely vega 56/64 cards. Cards have performed great and quite easily tuned and maintaining 47+ mh while all being highly stable. I like to switch every now and then to ERGO aswell, and in the past have easily hit 190+mh. Recently I've tried my hardest to get ERGO mining well but stability is really wonky AND the most important note is that I cannot get above 150mh.
I understand its a trial and error with OC and the cards. But with clocks that are pretty much copy paste from my previous experience with ergo and from others online that are easily getting 200mh, i can only get MAX 150mh.
I then noticed that the amdmemtweak tweaks I input have ZERO effect on the hashrate of any of the cards (7 cards total).
Things I have troubleshooted already:
Update hiveos OS
fine tuned my own overclocks
copied other users overclock settings
followed TeamRedMiner ethash and autolykos tuning guide
used TeamRedMiners timings and OCs
Things I have notices:
150 mh MAX
removing the memory timings while mining and no hashrate change
adding memory timing manually
adding memory timing through overclock sheet
With memory tweaks (both cards):
Vega 56:
amdmemtweak --CL 20 --RC 36 --RP 11 --WR 14 --CWL 8 --FAW 12 --RAS 20 --REF 65535 --RFC 248 --RTP 5 --RRDL 6 --RRDS 3 --WTRL 9 --WTRS 4 --RCDRD 12 --RCDWR 12
Vega 64:
amdmemtweak --CL 20 --RC 36 --RP 11 --WR 14 --CWL 8 --FAW 12 --RAS 20 --REF 65535 --RFC 248 --RTP 5 --RRDL 6 --RRDS 3 --WTRL 9 --WTRS 4 --RCDRD 13 --RCDWR 12

Without mem tweaks (both cards) (even after page refresh and a few mins for timings to take effect):

This is how the OC page looks: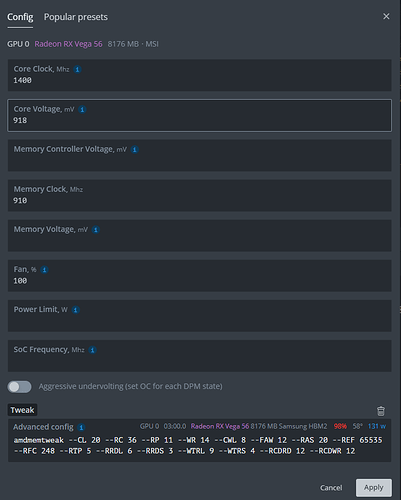 OS version:
0.6-219@220816
P.S I understand clocks aren't completely fine tuned in the screenshots but I just want the memory timings to work.
P.S.S memory tweaks seem to effect the cards in some way because sometimes when the clocks are scuffed, and the amdmemtweaks are applied, the cards crash (detected dead)