as per title, rigs running fine put hiveon just doesn't register anything, 0mh/s reported hashrate, 0mh/s real time hashrate
Can you post a screenshot of your worker overview screen, and from your miner window inside the shell?
the miner is still running as usual, submitting shares as usual, but hiveon pool just show 0mh/s on both real time and reported hashrate, and the worker as inactive, these happen for like the past 2 days
Wouldn't hurt to restart the miner/worker. As long as it's still mining and submitting shares that's all that really matters, reported being 0 could either be a miner issue or pool bug (mine is showing properly on the pool side, so can't say it is or isn't as of now)
@keaton_hiveon I have the same issue… the rig is mining and submitting… restart of the rig didn't change anything… net-test gives ok results… somehow, my rig on the pool is shown offline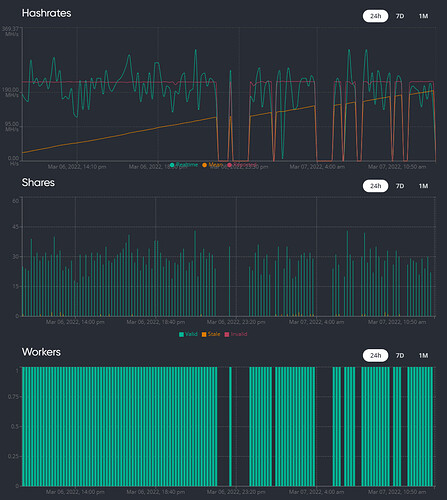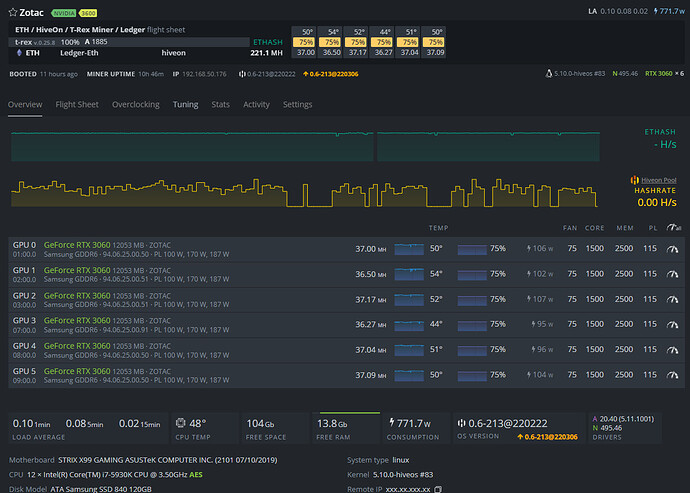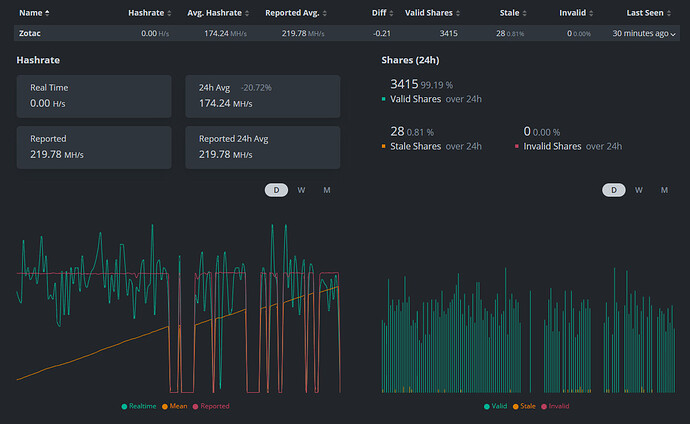 I see the same thing. I'm dual mining eth-ton. Ton pool doesn't show any issue. So from my point of view it is an error on hiveon pool side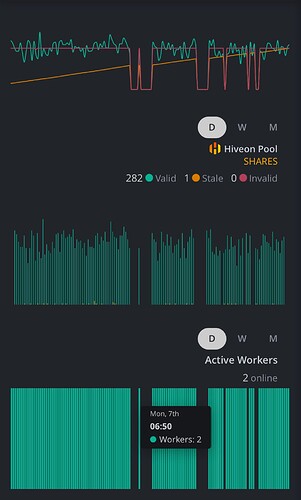 Unfortunately it does seem to be a common issue, but as long as your miner is still submitting shares you're good. Its just a display/reporting bug
That chart is based off the other one, they will show the same. If there's an issue with one there will be an issue with the other.
As long as you're still submitting shares you're good, pay attention to the eth amount.
I've also noticed the dips in the report out as well and it looks like that the work isn't being credited/paid.
(But my mining rigs were still mining, so it looks like it's just lost shares?)
But silly/stupid question - do these dips in the reporting/shares not being credited have something to do with the Russian invasion of Ukraine right now?
HiveOn, on the main page, wrote about how a lot of their developers live in Ukraine, which is currently under bombardment right now.
Do these dips have anything to do with the effects and impact of the war?
Appreciate you guys and appreciate the team's work despite the fact that there's a war that's happening in Ukraine right now.
Everything is being credited/paid, regardless if the share counts/calculations based on those share counts are incorrect or not. Pay attention to your pending balance, and you'll see it will increase at the expected rate still.
Most of the team is located in/around Ukraine and while I don't believe the war is the cause of the server issues, it can definitely slow the repairs when issues do arrive.
This topic was automatically closed 416 days after the last reply. New replies are no longer allowed.