Good afternoon community, I hope you are well. I am having a problem with my mining rig…
Everything was working fine since 7 months ago (when I built my rig*) until last Thursday (July 21).
The first error was "NVIDIA OC failed" then "Autofan: unable to set fan speed" and then constant restarts, repeating the same errors… I tried the following tests:
Remove autofan
Change overclockings
Change miner; from nbminer to trex
Downgrade/upgrade hive os
Update nvidia drivers (had version 510.60.02, updated to 510.73.05)
Nvidia settings reinstall
All these tests and none of them worked, so I decided to go testing GPUs one by one… the result surprised me: all the boards worked correctly, until I connected the PNY brand! The rig worked perfectly with all the boards (4) except the PNY… then I did the following tests:
Change risers
Change cables
Change PCI port
Clean the board
No solution… I try and connect only the PNY (without any other GPU) and I can't get it to work either… errors like "X server is not running! Some settings will not be applied!"
I really need help, I've been all these days looking for solutions and I can't figure out the problem, I really appreciate it…
I leave some screenshots… greetings!
*I specify the characteristics of my rig:
x5 RTX 3060ti LHR (3 MSI, 1 ASUS, 1 PNY).
OC normally used: Core:1400 Mem:1600 PL:130 Autofan: yes
MOTHER ASUS (AM4) ROG STRIX B450-F GAMING II
CPU Amd Athlon 3000g Yd3000c6fhbox 2 Cores Y 3.5ghz
Ram 8 GB DDR4 3200 PNY
PSU x2 REDRAGON 850W 80+ GOLD GC-PS010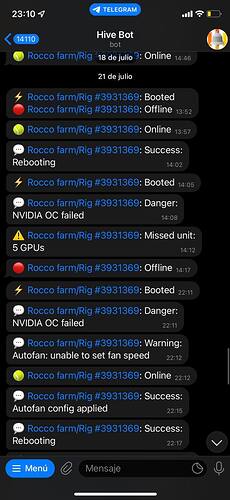 — all screenshots — : https://drive.google.com/file/d/1jE1sR_5KEI3nP1I-4Oa5UCvXXzazITc5/view?usp=sharing