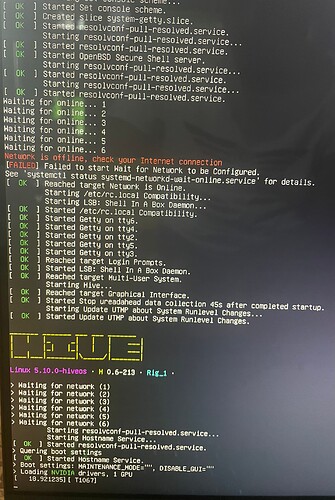 Hi guys, I need some help here
So here is what's happening with my rig.
I just started mining with 1X3080 and a 3070 Ti card.
It was smoothly for weeks. Then I wanted to expand my rig and bought one A2000. When I connected A2k and boot it up, hive freezes after booting up. It freezes exactly at one particular stage where it's says "LOADING NVIDIA DRIVERS, GPU,3"
Here are the troubleshooting tips I tried.
Changed 4G decoding disable → enable
Changed Risers
Changed PCie slots,
Removed other cards and tried to boot only with A2000
Changed PCie cables
Sometimes the Wi-Fi shows offline and freezes
My specs
BIO STAR 360 mining board
8GB RAM
PSU 850W
Hiveos loaded on a 120GB SSD
TIA