Jack up your fans to 100% in case memory temps are throttling. Then back them back down if/till there's no change in hashrates…
and fyi, you redacted the bios number which is not an identifier or unique thing. But could help in identifying an issue like outdated vbios.
Lee, which version of Gigabyte 3080 Ti are you using?
No, I mean what sub-brand of Gigabyte 3080 Ti are you using? OC Gaming? VISION? Others?
Hi, i really apreciate your oc settings, i bougth two 3080 ti here in Argentina, im new in this minning world.
I updated the nvidia drivers to 495.46 but in some cases the rig shootdown or it reinitate it. i dont want to kill my gpus testing the OC settings so i want you to tell me if you can how numbers of memory, pl, core are "dangerous"
i get 121mh for 30sec and then the rig died
After that i configured the second gpu 1 to the same numbers that gpu 0, get that numbers and died… whit the gpu 0 always work ok, but when i touch the gpu 1, i'm having problems as you can see "GPU driver error, no temps, rebooting"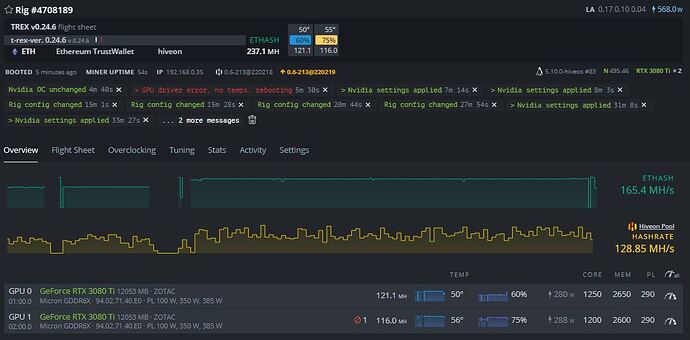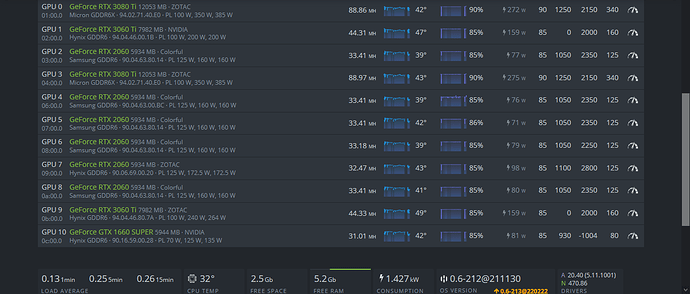 been so unlocky that mine doesnt even ever showed me a 90mh. this is the best i could get.
@grea
any help would be appreciated.
Hey Grea! Do u confirm that performance. Im looking too buy that ZOTAC 3080 ti AMP and i wanted to know. U can get 85 mh/s ?
Hi noni2724. Your ZOTAC 3080 ti is the AMP or the TRINITY version? Thank you