Do you have a large number of ASICs? Then you may face some issues and inconveniences related to its management. To make your life a bit easier, we prepared a list of five Hiveon OS functions that can significantly simplify the process of managing a large ASIC mining farm. Take a closer look.
1. Install your ASICs in bulk
Installing Hiveon OS on every single ASIC can take a lot of time and effort when you have hundreds or even thousands of devices. However, Hiveon OS can be installed in several ways:
Installing from another ASIC with SSH access.
Searching for all Antminer ASICs in LAN on specified ranges of addresses. During this process, a list of IPs is obtained, on which further installation will "take place". You can also create the list manually or copy it from BTC Tools. If the devices' names are added to the list, they will immediately have the specified names in the web interface of Hiveon OS.
Installing the Hiveon ASIC firmware in bulk.
Installing the client on any Antminer via SSH access in bulk.
Applying the farm_hash in bulk.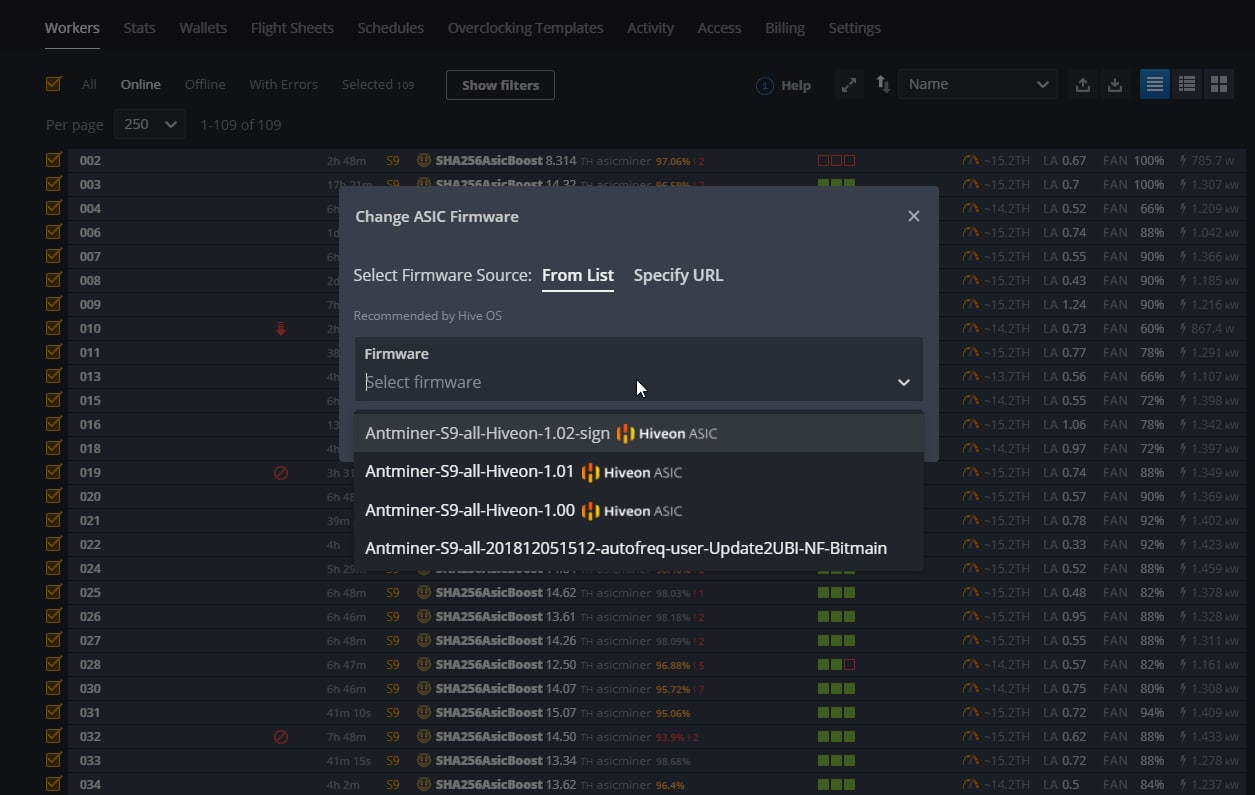 Bulk installation of the Hiveon ASIC firmware via Hiveon OS web interface
Installing Hiveon OS on ASICs in bulk will take much less time than doing the same for every particular device. You can find all the essential instructions either on our GitHub, or in our extensive knowledge base.
2. Take bulk actions
Apart from this, you can perform various actions in bulk. Again, this is very convenient in case you would like to apply a specific action to a large number of ASICs. Here are the bulk actions that you can take in Hiveon OS:
Flashing the devices;
Changing the overclocking profile;
Sending a command using Shell;
Applying a watchdog;
Applying a flight sheet;
Shutting down the devices;
Rebooting the devices.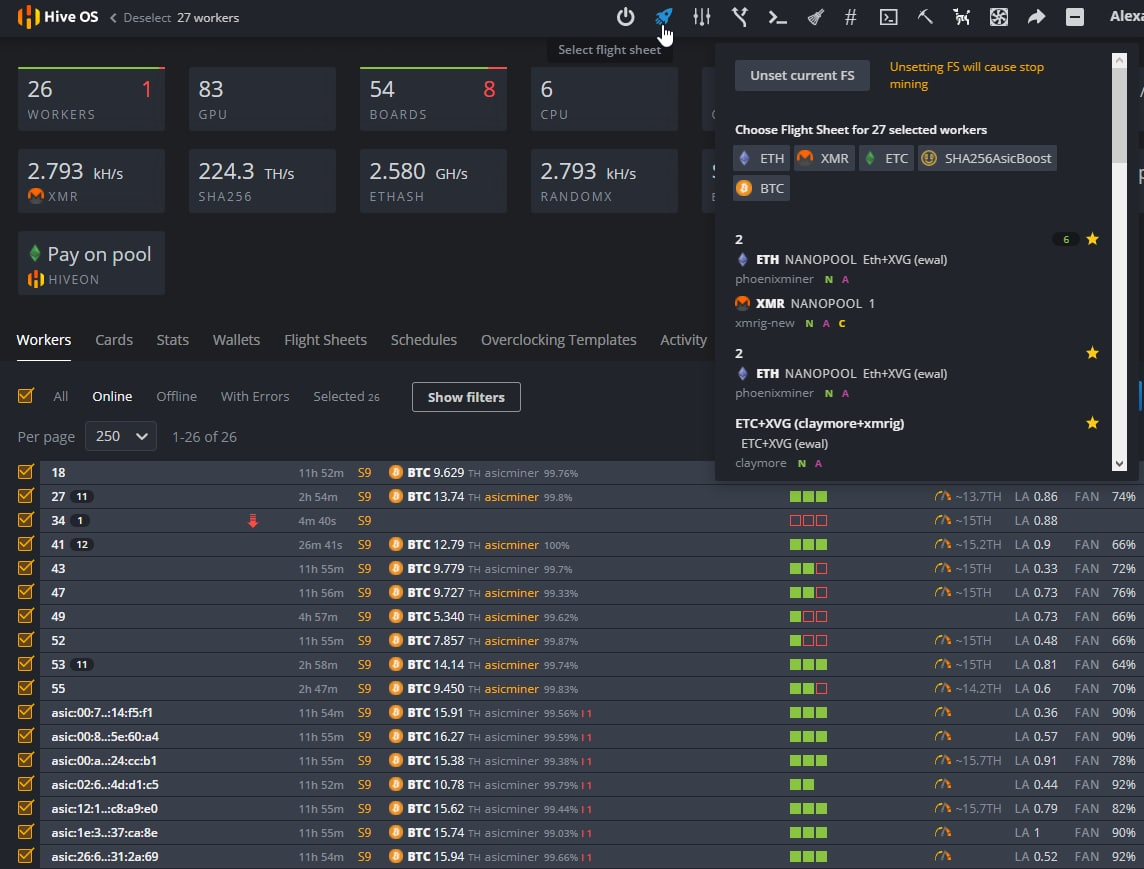 Bulk application of a flight sheet to workers
Selection of the devices is done through the web interface of Hiveon OS. You can select all the ASICs in a specific mining farm in one click, select all the workers on the page, or simply select only one device, if necessary.
3. Divide your devices into farms
A mining farm is a group of workers, and dividing your ASICs into farms is very convenient in case you have a large number of devices. First of all, it is easier to manage the devices. Secondly, monitoring ASIC farms also becomes more convenient, as each farm shows a separate general statistics like hashrate, power consumption, the number of workers with problems, and so on.
And if you are an owner of a mining hotel or an administrator of several customers, you can segregate your users in Hiveon OS by farms based, for instance, on different premises or networks. Let's say, you have several individual clients — then you can create a corresponding number of farms to manage and monitor their workers. Or, for example, you can create a farm for each individual premise.
Keep in mind that there are different access rights for accounts in Hiveon OS. Here is an example: an administrator has 15 farms with full access to them, and can share any farm with another account for monitoring (not for management). In turn, a client receives notifications in Telegram in case their devices have issues or to monitor their statistics.
There are many situations that tags can help you to deal with. Here are several examples:
Some of your devices have nuances that must be considered for mining. You can use proper tags to distinguish them from other workers. For instance, "Do not overclock" or "Problems with flash".
Some of your workers have hardware issues, and you can use tags to make them easy to find and to count, and to simplify the maintenance process (for instance, "Replace fan").
Tags can also be used to distinguish between different clients in the same large mining farm farm, and to bulk apply actions. This will be useful in case you own a mining hotel and have a lot of crypto miners who own only around a dozen of workers each. Creating the corresponding number of farms will be inconvenient, as Hiveon OS doesn't support bulk actions for farms. Therefore, if you have to apply a specific action to all the devices, you will have to do this for every farm individually. Instead, you can create one ASIC mining farm for all of your clients, and then segregate their ASICs with the help of tags. In this way, you will still be able to differentiate the devices of different clients, while it will be possible to apply actions in bulk.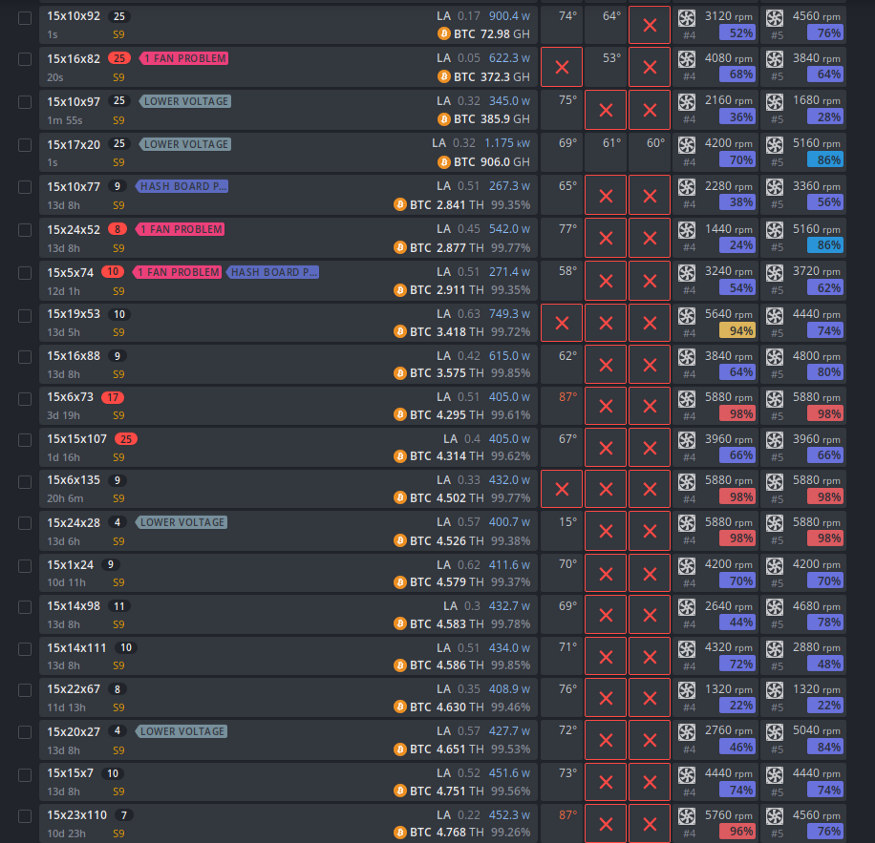 Example of using tags to sort ASICs with issues
5. Use the statistics function
At the moment, Hiveon OS offers statistics for a specific single worker and for the entire farm. The statistics of the device shows graphs of hashrate, power consumption, temperature and fan speed. In turn, farm statistics shows a hashrate graph and a graph of the number of active workers.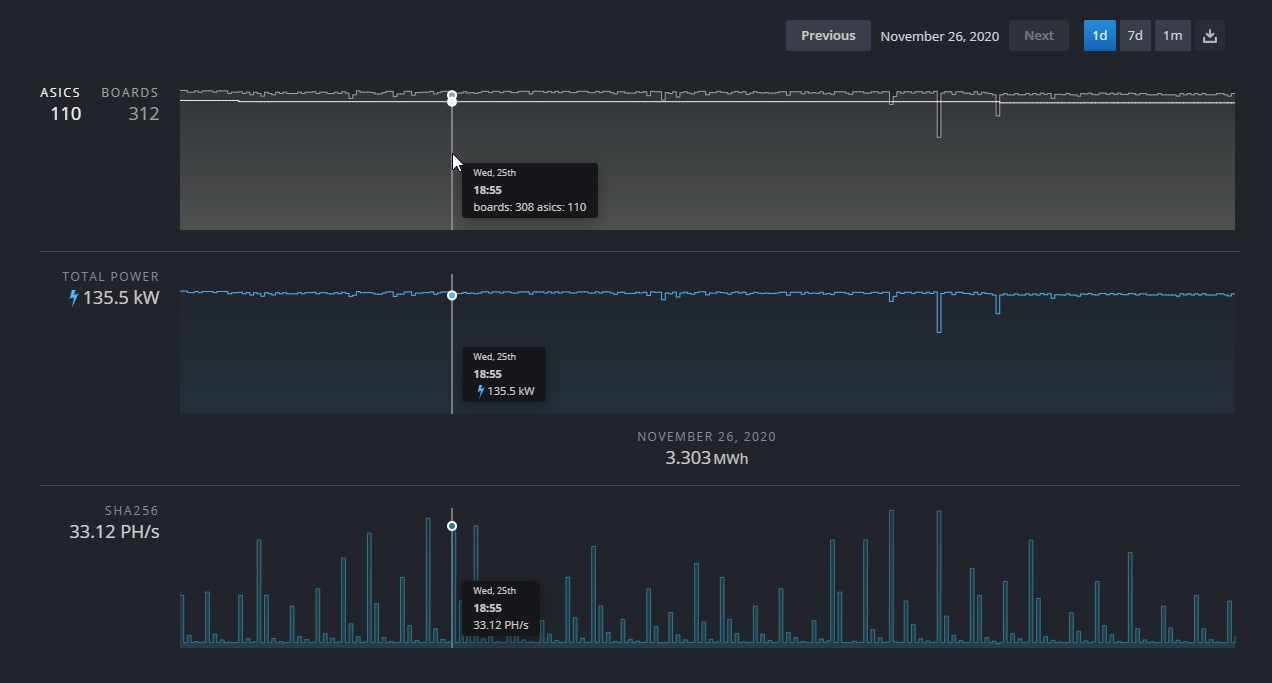 Statistics on the number of ASICs and hashboards, power consumption and hashrate of all workers
You can export all statistics to a .csv file, and then calculate the average or an exact value for any given period or even create custom charts.
Apart from this, each farm shows in real-time the current power consumption, hashrates and the number of non-working ASICs, so it is very easy for you to monitor the performance of your devices.
All the above-mentioned functions will provide you with flexibility and convenience, so that mining on a large number of ASICs will become much easier for you.
ASIC miners, mine cryptocurrencies profitably with Hiveon OS! And if you have any questions regarding how to manage your mining farm, how to mine Bitcoin (or any other cryptocurrency), how to do ASIC bitcoin mining, and so on, do not hesitate to get in touch with us.