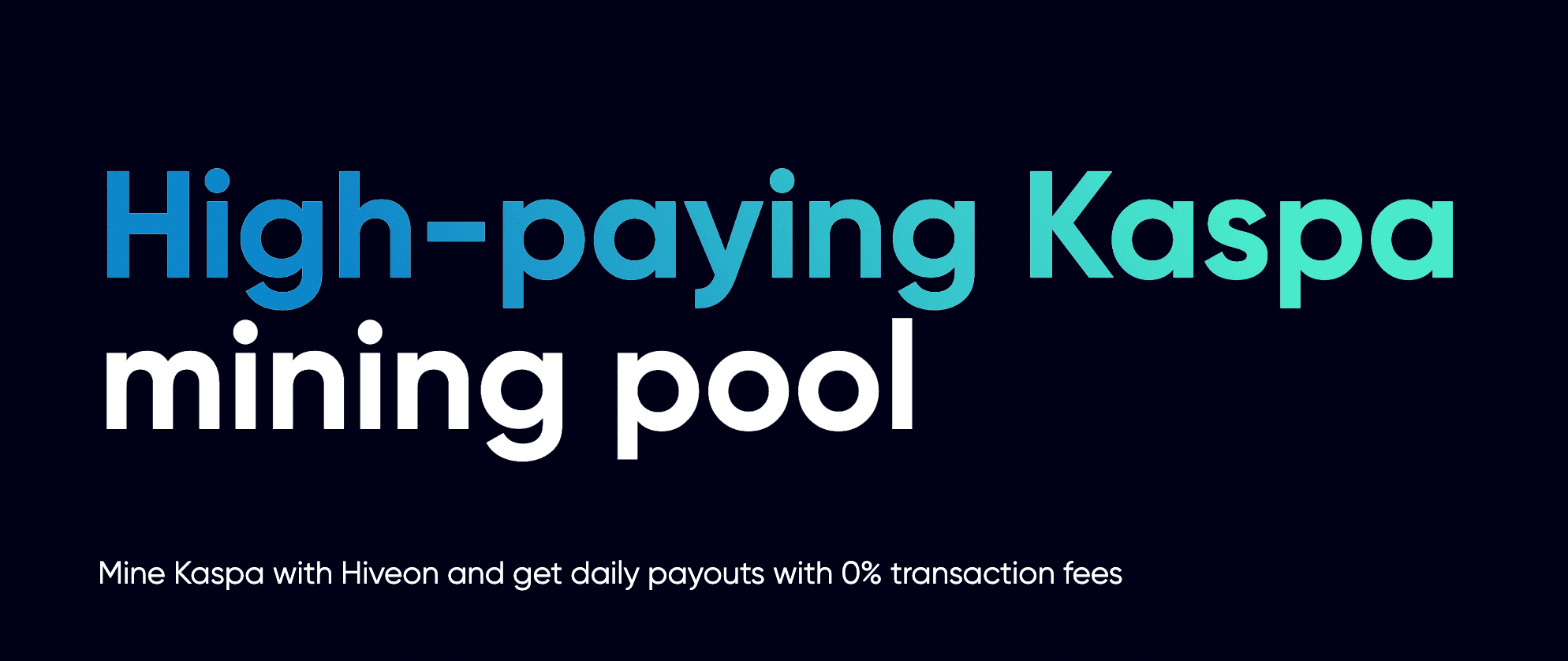 What is the Hiveon Kaspa Pool?
Kaspa Pool is a newcomer to the group of Hiveon mining pools. This pool is designed for mining KAS, an up-and-coming cryptocurrency popular among GPU miners. Kaspa relies on the GhostDAG protocol to provide unmatched speed and scalability of its blockchain. Dive deeper into the history, structure, and other fundamentals of this cryptocurrency in our Kaspa guide.
Hiveon Kaspa Pool advantages
Apart from its low latency and dedicated support team, the Hiveon Kaspa Pool has the following advantages:
1% pool fee
PPS+ reward type
50 KAS minimum payout threshold
0% transaction fees (all covered by Hiveon)
Worldwide mining servers
Automatic server selection: use a single pool address and let Hiveon pick the nearest server for each of your miners
If you're already sold on the idea of mining with Hiveon Kaspa Pool, read on for our simple setup instructions.
Kaspa Pool setup in Hiveon OS
Start off by creating a Hiveon account here or using the pool anonymously.
Once you've done it, you're all set to follow the steps below and start mining Kaspa.
Step 1: Create a Flight Sheet
Log in to your Hiveon OS account and go to the Flight Sheets tab. Here, in the Coin field, select Kaspa.
The information for Wallet, Pool, and Miner fields will be filled in automatically based on your Hiveon OS account details. The main Hiveon OS account is also your main mining account.
Next, specify the necessary fields and click Create Flight Sheet.
Step 2: Apply the Flight Sheet to your worker
You can do it in either of two ways.
Option 1: Go to the Workers tab, choose a specific worker, and then go to the Flight Sheets tab in the rig's menu. Click the rocket icon in the top right corner.
Option 2: Go to the Workers tab and select the checkboxes on the left side of the miners you've chosen.
Click the rocket icon to see a window with the number of your chosen workers and a full list of your Flight Sheets. Select the created Flight Sheet and click Apply.
Then you will see a message saying that the command was sent to the worker (or workers). In a few seconds, your rigs will apply the changes, and you will see the Config message in the activity logs.
Connect to Kaspa Pool via server
You can connect to the Kaspa Pool using a server address. All you need to do is specify the following address in your ASIC miner settings:
**- stratum+tcp://kas.hiveon.com:4444
stratum+tcp://kas.hiveon.com:8888
SSL port number:20443**
By mining with the Hiveon Kaspa Pool, you'll receive stable daily rewards with 0% transaction fees or extra charges and become a part of a supportive hivers community. Come and get the best of cryptocurrency mining with Hiveon!
P.S. If you still have any questions or need guidance, go ahead and drop a line to our customer support team at [email protected] 🤘