Users can use video cards from various manufacturers, so each miner can install any drivers for these cards.
Things to keep in mind
To implement the update process, you need to have three options:
SSH connection
Teleconsole
Physical access
For AMD
AMD driver updates should only be performed in conjunction with the Hive OS image update.
For NVIDIA
Starting from the version 0.5-70, a script is integrated into the operating system that makes it possible to install the most current and efficient NVIDIA drivers, which can be activated in two ways: using the Hive OS web interface or via an SSH connection:
nvidia-driver-update
To see the full list of versions available for updating, run the command nvidia-driver-update --list.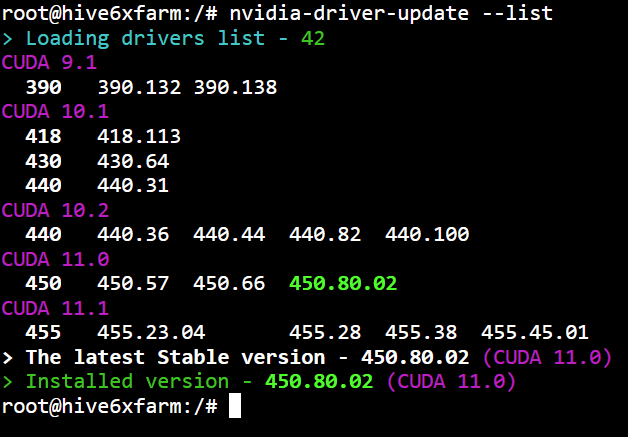 Here you can select the version you require from the available ones.
To install the required version, just enter the following command: nvidia-driver-update 455.38
Or simply specify a series of drivers, and the maximum available version from this series will be installed: nvidia-driver-update 455
If necessary, you can write the full address at which the archive with the driver software is located: nvidia-driver-update https://download.hiveos.farm/drivers/NVIDIA-Linux-x86_64-392.61.run
Drivers can be found in the Software Collection at: https://download.hiveos.farm/drivers/.
In some cases, after the update, the overclocking settings may not work. To return the previous functionality, you just need to write the following command: apt install --reinstall -y nvidia-settings
You shouldn't have any issues here. In case of any error, you need to enter the command again - everything will work.
If it doesn't work at all and you get errors like "Unload modules failed" (or something similar), you can try to enable maintenance mode without loading drivers, reboot and repeat the update procedure.